Assembly government ministers meet over 'grim' Budget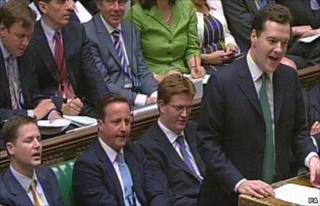 Assembly government ministers are meeting on how to cut an estimated half a billion pounds from their budget next year.
Business and budget minister Jane Hutt said Tuesday's "grim" Budget by Chancellor George Osborne was "very risky" for the recovery of the economy.
She said it would "hit the poorest and most vulnerable" in Wales.
Welsh Secretary Cheryl Gillan has described the UK government's first Budget as "tough but fair".
Assembly government ministers are meeting in Cardiff Bay to discuss how the Budget announced on Wednesday will affect public services in Wales.
Mr Osborne announced an increase of VAT up to 20%, the freezing of child benefit and a rise in personal income tax allowance.
He also placed new limits on housing benefits claims and announced medical assessments for new and existing Disability Living Allowance claimants.
Early indications suggest that in real terms, Welsh ministers may have to manage cuts of around £2bn to their spending power over the next four years.
In a response, the assembly government said ministers were "disappointed" Mr Osborne did not "recognise that Wales is already underfunded by £300m per year".
Ms Hutt told Radio Wales ahead of Wednesday's cabinet meeting that the Chancellor's budget was "not going to give confidence to the economy".
She said: "This is a grim Budget. It's a very risky Budget in terms of the opportunities for the Welsh economy to grow and recover from the recession.
"But the worst point about this Budget is it hits the poorest and most vulnerable in our society the hardest.
"The big risk for recovery is the public sector because the interaction between our public services and business is clear, particularly with our small to medium-sized enterprises.
"But let's face it, the VAT uplift is going to hit everyone in Wales hard."
She said the Budget added £40bn to reductions in public spending to the £73bn reduction proposed by Labour's Alistair Darling when he was chancellor.
She said: "We've all said, as the economists have said, we should not cut too deep, too soon.
"We've got to protect our recovery and we have to protect our businesses in Wales particularly those small businesses who depend on the public sector."
'Balanced'
Mrs Gillan said the Budget set out a "balanced" package of measures which would help tackle the largest deficit in peacetime history, while safeguarding support for the poorest and most vulnerable in society.
She said thousands of businesses across Wales would benefit from the Budget, giving the example that a three-year scheme would exempt Welsh firms from up to £5,000 of employer National Insurance contributions for the first 10 employees hired.
The assembly government has yet to decide whether to begin implementing cuts this year or to wait until 2011.