Men paddle around Isle of Wight standing up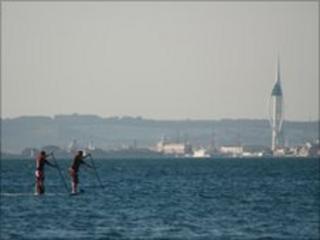 Two men have circumnavigated the Isle of Wight by stand-up paddle surfing - paddling with an oar while standing on a surfboard.
Charlie Head and Brad Symington travelled the 60 mile (96km) distance on Wednesday, setting off at 0600 BST from Bembridge.
The non-stop journey for charity took 14 hours and raised about £500 for the Bembridge RNLI lifeboat station.
Mr Head said the journey was "amazing fun, but very hard work".
Strong tides
He said: "We had little sacks that we kept between our feet, with water, sandwiches and some dried fruit in them. The food was only just enough."
The men, who both also teach watersports, had been planning the journey since May.
A practice attempt on 12 June was abandoned after four hours due to poor weather conditions.
The pair had expected the fundraising effort, travelling in a clockwise direction on 11ft long (3.3m) boards, to take 10 hours in total.
Mr Head, 31, said: "It was definitely a challenge. With some of the bays, we were able to cut straight across but in other places we were a couple of miles out to sea.
"We tried to stay close to the coast where we could to keep some perspective on where we were."
A key part of the challenge for Mr Head, from Bembridge, and Mr Symington, originally from Cape Town in South Africa, was doing the journey in one day.
"The key is to get the tide right," he said.
"They switch every six hours and change depending on where you are on the island. The tides can get so strong you can hardly paddle against it."
The Bembridge Lifeboat Station Appeal was launched in June 2008 to raise £1m towards a new boathouse for a new Tamar class all-weather lifeboat.
Stand-up paddle surfing originated in Hawaii in the 1960s, as a way of surfing teachers being able to see the people they were teaching.