Beaches reopen after Esso oil spill on Hampshire coast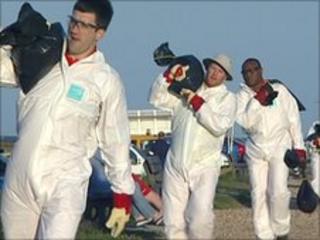 Beaches that were shut when oil washed up on to two miles (3.2km) of Hampshire coast following a pipeline leak in Southampton Water have reopened.
About 20 barrels of vacuum gas oil were spilled at Esso's Fawley Refinery on Sunday night as a ship was unloaded.
About 1km (0.6 miles) of beach starting from Hill Head to Meon Shore chalets was closed and people were told to stay out of the water.
The council said tests showed that very little oil had penetrated the sand.
Fareham Borough Council's executive leader Sean Woodward said: "I am delighted that the beach is now open.
"All agencies have worked extremely hard to mitigate the effects of the spill and get the beach back to normal as quickly as possible and people can now enjoy it again."
Shellfish beds in the area remain closed while tests are carried out to establish if they pose risks to health.
"The beds will be closed for a little longer [and] commercial fisherman have been banned from fishing there at the moment," added Mr Woodward.
"Shellfish are being sampled to make sure they have not ingested oil."
The test results are expected next week and a decision will then be taken as to when they can be reopened.
Booms were put in place to prevent oil being washed ashore at Titchfield Haven National Nature Reserve.
On Tuesday, workers wearing rubber boots and armed with shovels and plastic sacks assisted in cleaning up the affected areas.
Southampton-based experts Oil Spill Response carried out the tests to see if the oil had seeped from the beaches further into the ground.
Because the area is a site of special scientific interest, the clean-up involved bagging up the contaminated shingle after each high tide and sending it away to be cleaned before returning it to the same place.
Monitoring of the marine and shoreline environment will continue over the next few days to make sure that no further traces of oil are found.
The Environment Agency said it was investigating the leak, which occurred when the oil was being imported and unloaded from a ship.
Esso said any health risks were "very, very low" and it would meet the clean-up costs.
It apologised for the "regrettable incident" and said unloading was immediately stopped.