John Major Spitting Image puppet auctioned at Bonhams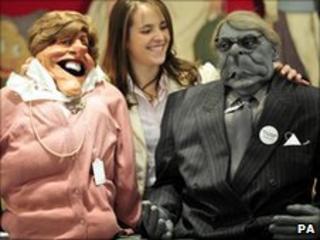 Former Prime Minister John Major's famous "grey man" Spitting Image puppet is going under the hammer.
The Conservative leader and his wife Norma were two of the satirical television show's best-loved and most maligned characters.
Their 28in foam latex puppets are expected to fetch £3,500 at Bonhams auction house in London.
Spitting Image ran on ITV from the mid 1980s to the mid 1990s, poking fun at celebrities, royalty and politicians.
'Popularity continues'
Mr Major came in for sustained abuse in the show. His puppet was always in monochrome grey, matching what the programme makers saw as his boring personality.
He was often shown eating meals of peas in silence, and being mocked by the Downing Street cat.
A puppet of former Tory Prime Minister Sir Edward Heath is also being sold with an estimate of up to £1,800.
A Bonhams spokesperson said: ''These items are a great piece of British television and political memorabilia and the popularity of Spitting Image puppets continues."
The first Spitting Image puppets were made in 1975 by the show's creator Roger Law.
Impressionists and comedians Harry Enfield, Steve Coogan and Rory Bremner were among those who provided the voices.