Japan PM apologises for US bases in Okinawa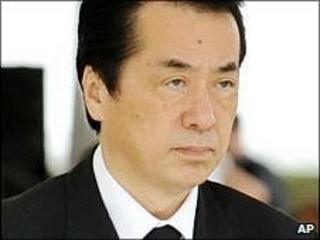 Japan's Prime Minister Naoto Kan has apologised to people in Okinawa for "the burden" of US bases on the island.
Mr Kan was on his official first visit to Okinawa to mark 65 years since the end of a bloody World War II battle.
His predecessor Yukio Hatoyama resigned earlier this month over the poor handling of a row over the relocation of the Futenma airbase.
Mr Kan has assured US President Barack Obama he will relocate the base to the north of the island as agreed.
His pledge comes despite anger from locals who have staged mass protests, demanding that it be moved off Okinawa entirely.
Islanders have been angered by incidents involving US troops based there, including the 1995 rape of a 12-year-old Japanese girl and a helicopter crash in 2004.
Other complaints have focused on noise levels and objections to the US military use of Japanese land.
Japan-US relations
"On behalf of all of our people, I apologise for the burden," Mr Kan said, but added that it was integral to the "peace and security of the Asia-Pacific region."
"I promise to seriously try all the more to reduce Okinawa's burden related to the US bases and eliminate the associated dangers."
Okinawa currently hosts more than half of the 47,000 US soldiers in Japan.
Mr Kan was speaking at the ceremony to mark the 65th anniversary of the Battle of Okinawa, in which some 200,000 soldiers and civilians were killed.
He said he would honour the agreement reached with the US in 2006 to move the Futenma base to a less populated area of Okinawa.
The prime minister has pledged to restore the relationship with Washington, saying the Japan-US security alliance was the "cornerstone" of Tokyo's politics.
He is expected to discuss the issue with President Obama on the sidelines of a summit of G8 and G20 leaders this weekend in Canada.