BBC defends staffing levels at major live events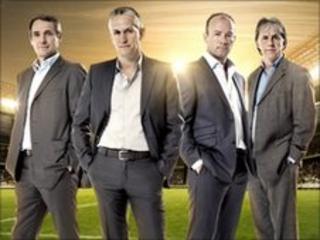 Staffing levels at Glastonbury, the World Cup and Wimbledon are justifiable because each worker has a "clear and accountable role", the BBC has said.
The corporation has been criticised for sending so many members of staff to cover the events.
The BBC said a total of 751 employees have been deployed for the large events, which "audiences expect to see and hear".
In a statement, the BBC said: "We always keep value for money in mind."
The BBC said that of the 292 staff sent to South Africa for the World Cup, around 35 will leave before the competition's end and numbers would continue to decrease depending on England's progress.
Approximately 185 BBC staff are covering the Wimbledon tennis championship for TV, radio, news, interactive and online. That number is down from 358 people in 2008.
The remaining 274 members of staff have been deployed to cover Glastonbury in Somerset.
In 2008, 277 members of staff were sent to cover the music event.
'Clear view'
A BBC spokeswoman said: "Large scale live music and sport events are an important part of bringing the nation together and audiences expect to see and hear them on the BBC.
"In delivering these events, we always keep value for money in mind and each member of staff working at these events has a clear and accountable role."
In January, the National Audit Office (NAO) said the BBC was not doing enough to show it provides the "best possible value for money" when covering major sports and music events.
The NAO looked at how much the corporation spent at six events including the Olympic Games, Wimbledon and Glastonbury in 2008.
The report added that viewers generally valued and enjoyed the coverage provided by the BBC, but criticised the corporation for not having "a clear view" of its total expenditure.