Green honours at six-pupil Ettrick Primary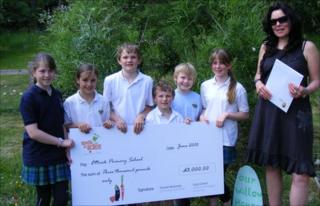 The six pupils at Ettrick Primary may attend one of the smallest schools in the Borders but their green-fingered and environmentally-friendly work has brought rewards.
The school, 18 miles up the valley from Selkirk, has emerged as Scottish winner of the Appetite for Action programme which focuses on green initiatives.
Jenny Wiggle, of Global Action Plan, presented the school with a cheque for £3,000 and said she was very impressed by what she saw ... and ate.
She said: "That such a small team of students can put so much effort in is amazing.
"They're all so committed and were telling me all the names of the plants.
"Even the school cook is involved, creating delicious pies and fools from the rhubarb the pupils have grown - so it's really taking sustainability forward."
Lily Ashrowan is one of the keen gardeners at Ettrick Primary.
She explained how she laid out her own section of the garden with both fruit and flowers.
Fantastic area
"It's great to be out in the sun and doing things all together," she said, giving her view of the garden initiative.
Another Ettrick Primary pupil, Angus Reid, explained how he had laid out his area of the garden with some flowers, but also with raspberries and strawberries.
He is keen to continue with the outdoor life and wants to be a farmer when he is older.
With the £3,000 cheque now presented, Ettrick Primary teacher Anita Branston said they already had plans for how the money would be spent.
"A lot of the money will go straight back into our grounds," she said.
"We have a fantastic nature area and we want to finish off a boardwalk there.
"The rabbits are getting into our garden so we need to improve the fencing - I'm sure there are a million other ideas on the children's wish list."