Man jailed for Heather Stacey head-in-bag murder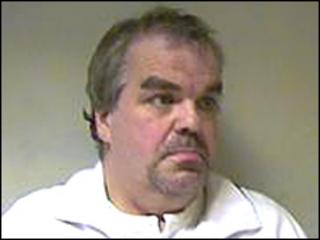 A 56-year-old man will serve at least 25 years for murdering his fiancee before cutting her into pieces and dumping her remains in Edinburgh.
Alan Cameron was convicted last month of Heather Stacey's murder on a majority verdict.
Cameron, a convicted paedophile, denied murder but admitted hiding the 44-year-old's body for more than a year before disposing of it.
Her head was found in a plastic bag on a cycle path on New Year's Eve 2008.
'Callous deceit'
Cameron had denied murdering Ms Stacey, who was from Dingwall, at her flat in the Granton area of Edinburgh about a year earlier.
He was sentenced to life at the High Court in Edinburgh and will serve at least 25 years before being eligible for parole.
Cameron was earlier convicted, at the High Court in Livingston, of killing the mother-of-four sometime between 29 November and 11 December 2007.
In sentencing, judge Lord Matthews said he had "conducted a campaign of callous deceit" in order to convince others that Ms Stacey was still alive.
"You left her corpse to rot where she lay in an insect-infested flat and attempted to cut her limb from limb," he said.
"Having failed in that enterprise you mutilated her remains by pulling them apart and then scattered them around in bin bags. Even in death you abused her and denied her any dignity."
Cameron, from Edinburgh, was further found guilty of attempting to defeat the ends of justice and of stealing almost £5,000 over 11 months from his victim's Post Office account.
It was revealed, after the verdicts were delivered, that the killer was jailed for six and a half years in 1995 at the High Court in Glasgow for nine sex offences involving children.
He was freed in June 1999 and placed on the sex offenders register for life.
Det Ch Insp William Guild, of Lothian and Borders Police, welcomed the sentence.
He said: "The sentence handed down reflects the seriousness of the crime committed by Alan Cameron, and the hard work of the police and prosecutors who brought this case to its conclusion.
"We hope that today's result will provide some closure for Heather Stacey's family, and I would like to pay tribute to them for the strength and courage they displayed over the course of the investigation into Heather's murder."