Comeback for Britain's rarest crow in Jersey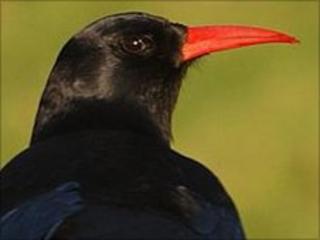 A breeding programme has begun at Jersey's zoo in order to re-introduce the Red-billed Chough to the island.
The bird, Britain's rarest crow, has been absent from Jersey for more than 100 years.
Durrell Wildlife Conservation Trust has a colony of the birds which it aims to reintroduce to the coastline.
Ahead of the bird's release, Durrell plans to restore the island's coastal habitats.
The National Trust for Jersey and the States' planning and environment department have begun working with Durrell to restore coastland habitats.
Deputy Rob Duhamel, assistant minister for planning and environment, said: "We are pleased to be working on this collaborative project with the conservation organisations in Jersey, together we are better able to deliver our commitments to the Bern convention and convention on biodiversity (Rio convention)."
A Durrell spokeswoman said it is estimated that there are 500 breeding pairs of choughs in the British Isles.