Talks over Cardigan hospital land break down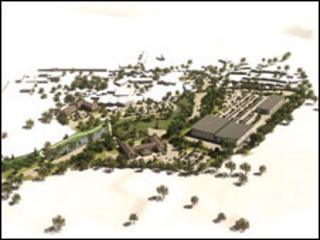 Talks have broken down over the sale of a piece of land for a new hospital in Ceredigion.
The hospital is part of the £50m Bath House project, which will create 600 jobs and see a supermarket, housing and a GPs' surgery built in Cardigan.
The Hywel Dda Local Health Board and Health Minister Edwina Hart said they were disappointed a deal had not been struck.
The landowners have refused to comment for the moment.
Planning for the project has been granted, and in 2005 it was the subject of a public inquiry.
But there have been concerns that Cardigan's road network would be unable to cope with the extra traffic generated by the development.
'Swiftly as possible'
There was also a dispute between the developers and a landowner over another strip of land, which was eventually resolved in 2008.
About the latest problems facing the project, Hywel Dda health board's chief executive, Trevor Purt said: "We are disappointed that we have not been able to agree purchase of this site with the landowners.
"The Bath House site remains the health board's preferred location for the Cardigan health care development.
"We remain fully committed to the project and will continue to pursue all options to ensure that we deliver this important resource to the people of Cardigan and the surrounding areas."
Health Minister Edwina Hart is also committed to the development.
Her spokesman said: "The Health Minister, Edwina Hart, is disappointed at the news that talks have broken down on the purchase of the land.
"The Bath House site is the health board's preferred option but is considering other options for the development and the health minister has asked senior officials to work with the health board to resolve the issues as swiftly as possible."
Ceredigion AM Elin Jones said Mrs Hart should consider using compulsory purchase powers to secure the land for the new hospital.