St Peter Port Harbour bombing to be remembered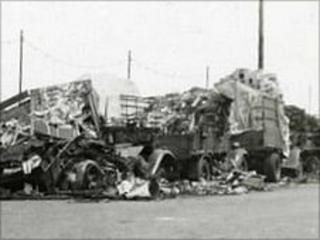 The 70th anniversary of the bombing of Guernsey's main harbour during WWII is to be remembered in a special service.
Thirty-four people were killed and 33 were injured when three German planes bombed St Peter Port Harbour.
The attack on 28 June 1940 saw 49 vehicles damaged or destroyed, the majority of which were lorries of tomatoes waiting to be exported.
The service is due to be held at 1900 BST on Monday, 28 June at the White Rock, the scene of the bombing.
The bombing occurred just two days before the occupation of the island by German forces, which lasted until 9 May 1945.
The service is being organised by the Royal Guernsey Agricultural and Horticultural Society.
Ray Watts, the society's president, said: "Many Guernsey families were affected by either loss of life or injury at this time. We would like to invite all survivors and their families to attend and reflect on this dark day from many years ago."
To mark the occasion, the Victoria Tower air raid siren will sound at 1845 BST, the time that the bombing raid commenced, and again at 1935 BST to signify the end of the raid.
The Dean of Guernsey, the Very Reverend Paul Mellor, will officiate at the service, during which the names of those who lost their lives will be read out.
The bombs caused damage to the Cambridge Sheds, the Information Bureau and the Weighbridge with the clock stopping at just before 1900 BST.
After delivering two attacks on the harbour the three planes split up and individually attacked the Fruit Export Sheds, La Vassalerie, St Andrew and area around Vazon. The "all clear" was sounded at 2000 BST, but many St Peter Port residents spent the night out of the town where they felt they would be safer.
Some islanders have said the incident could have been avoided if the demilitarisation of the islands had been better communicated to the German military by the UK government.