Deflated Llangollen balloon festival reborn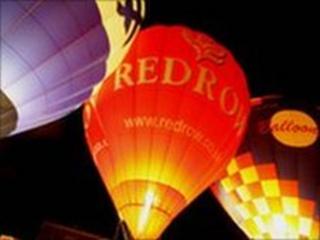 A prestigious hot air balloon festival cancelled in Denbighshire is set to be replaced with a new two day event.
Organisers of the Great Llangollen Show say they hope to retain a key part of the scrapped festival, with an evening display of hot air balloons.
The original balloon event was cancelled because of the uncertainty of early autumn weather conditions.
The new festival will take place on the first weekend of September, based at the Royal International Pavilion.
The weekend of activities is the brainchild of the Llangollen Chamber of Trade & Tourism (LCTT), led by its chair, businesswoman Stephanie Booth.
"This will bring everyone together as the whole community has got involved," she insisted, as details of the event were unveiled.
"We will be able to bring the best fun weekend ever to The Royal International Pavilion which is the established venue for the International Peace Music Festival and a fitting venue for the largest event ever held in the town."
The town's chamber of trade said it was acutely aware of the impact on local business if it lost the balloon festival completely.
However, while the events intend on retaining the evening Night Glow display of hot air balloons, the organisers want the new festival to have a much broader scope and local appeal.
Activities are set to include Mamma Mia dancing, a Have You Got Talent competition, live music and fireworks.
Town leaders said they are delighted at the plans, with Denbighshire council also playing its part, in helping with delivering the event.
"When the Balloon Festival was withdrawn we were very disappointed," admitted Ian Parry, clerk to the town's council.
"The impact on Llangollen of the loss of one of its most popular weekends would have been substantial and in the current climate would have been a significant blow to Llangollen's economy.
"We're delighted that Stephanie and the LCTT have taken up the task of filling the void and we'll help wherever we can."