Obama and Cameron discuss Bloody Sunday Report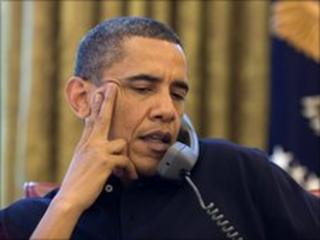 US President Barack Obama has discussed the Saville Report into Bloody Sunday with the prime minister.
President Obama spoke of the "historic nature" of the David Cameron's statement to the House of Commons on the inquiry into Bloody Sunday.
He also commended the events of last week for their "contribution to NI's reconciliation efforts".
Last Tuesday, Mr Cameron said the events of Bloody Sunday were "unjustified and unjustifiable".
President Obama and Mr Cameron spoke by telephone, ahead of the G8 and G20 meeting in Canada later this week.
Thirteen marchers were shot dead on 30 January 1972 in Londonderry when British paratroopers opened fire on crowds at a civil rights demonstration.