Footballer attack accused lose Greece extradition fight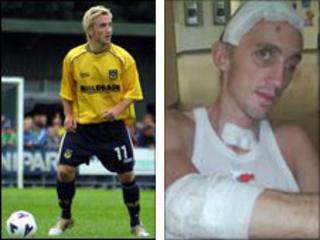 Five men have lost a High Court battle to block their extradition to Greece where they are accused of attacking a footballer from south London.
They insist they are innocent and that poor conditions in a Greek jail would infringe their human rights.
The men, all in their early 20s, face allegations of causing grievous bodily harm to former Oxford United footballer Rob Hughes, from Croydon.
The alleged attack happened outside a Crete nightclub in June 2008.
The five men - Curtis Taylor, 20, Daniel Bell, 21, and Sean Branton, 20, all from Horley, Surrey; George Hollands, 22, from Reigate, Surrey, and Benjamin Herdman, 20, from Worth, West Sussex - deny involvement in the attack which occurred in the resort of Malia.
The men were invited to go back to Greece in June 2009, but they refused and were then detained under European arrest warrants in December 2009.
In court, the five men asked President of the Queen's Bench Division, Sir Anthony May, and Mr Justice Blair, who sit at the High Court in London, to block a City of Westminster Magistrates' Court decision in February 2009 which gave the go-ahead to the extradition.
Kicked and stamped
Alun Jones QC, who represented the five men, had told the High Court they faced being detained in "intolerable, disgusting and unacceptable conditions".
He said the conditions violated the men's rights under Article 3 of the European Convention on Human Rights not to be subjected to inhuman and degrading treatment.
But the judges have upheld a finding by District Judge Caroline Tubbs that there was no reason why the five should not travel to Greece to stand trial.
They ruled the evidence of them possibly suffering inhuman and degrading treatment "fell a long way short" of establishing a bar to extradition.
"Disturbing and deplorable though the accounts of the prison conditions we have seen are, they do not show strong grounds for believing that these appellants, if returned to Greece, face a real risk of being subjected to torture or to inhuman or degrading treatment or punishment," the judges said.
Following the ruling, Vanessa Hollands, mother of George Hollands, one of the five men facing extradition said: "My son is being forced into indefinite incarceration in Greece with no prospect of bail, to await trial for a crime that all the evidence shows he did not commit."
She also warn the parents of "British lads" to be "very afraid" if their sons were planning holidays in Greece.
Mr Hughes, who also played for Fulham youth team, Sutton United, Croydon Athletic, Bromley and has since played for Welling, was left in a coma after being kicked, stamped on and hit with a bottle.
He was in a Greek hospital for three months undergoing a series of brain operations.
He has now recovered to the extent that he is playing football again.