Strikes halt work at Toyota and Honda plants in China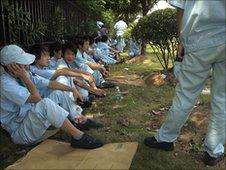 Strikes have halted work at two Japanese-owned car assembly factories in southern China - the latest in a wave of labour disputes.
A Toyota plant in Guangdong province has stood idle since Tuesday after workers at a nearby parts supplier, Denso, walked out the day before.
Honda said one of its joint venture plants has also had to stop work.
The strikes highlight growing discontent among millions of workers over low pay and poor conditions.
The BBC's Damian Grammaticas in Beijing says their industrial actions are not legal, but they have seen other strikes in recent weeks force managers to conceded pay rises of up to 25%.
And so the stoppages appear to be copycat actions by an increasingly assertive labour force, our correspondent says.
It is not clear when production at the Toyota factory in Guangdong province, China's manufacturing hub, will restart.
The strike at Denso, which makes fuel injectors and other parts, began on Monday when more than 200 staff downed tools in a dispute over pay, state media reported.
"I feel not respected by the human resources department. They often say 'You can leave if you think other plants are better', when we ask for something," one worker was quoted by Xinhua as saying.
Local government and union officials are trying to help resolve the stand-off, Xinhua said.
Last week production at one of Toyota's main assembly plants in China was hit by a three-day strike at one of the carmaker's affiliated suppliers.
Meanwhile another of Japan's big carmakers, Honda, was also forced to halt production on Wednesday when an assembly plant run by its Chinese joint venture Guangqi Honda Automobile stopped operations after strikes at a Japanese supplier.
The Honda plant is expected to resume operations on Thursday, a Beijing-based Honda spokesman told AFP.
Honda's car assembly lines in southern China have been disrupted several times in recent weeks because of labour disputes.
The BBC's China editor Shirong Chen says the government has tolerated strikes at foreign-owned plants, which are obliged to respect workers' rights, but maintains strict control at Chinese-owned factories for fear of widespread social unrest.
Related Internet Links
The BBC is not responsible for the content of external sites.