Tourists stranded by Greek strike in port of Piraeus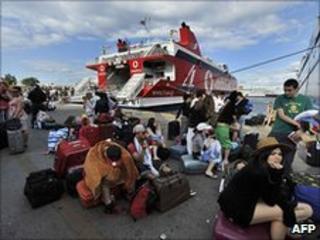 Dock workers have gone on strike in Greece's main port, Piraeus, preventing thousands of holidaymakers from catching ferries.
The strike was called to protest against planned reforms to pensions and labour laws.
The reforms were a condition of an economic rescue package from the EU and the International Monetary Fund (IMF).
The Greek government has promised to compensate tourists whose travel plans are disrupted by industrial action.
Communists are at the forefront of the industrial action, but they have widespread support from the general union movement, the BBC's Malcolm Brabant reports from Athens.
Railway workers and state television employees were among those also striking on Wednesday.
Austerity measures
In Piraeus, dozens of strikers blocked tourists from walking up the gangplanks of ferries that normally head to the Greek islands.
Greece has been suffering a severe economic crisis, and the government is imposing a swathe of austerity measures in return for a 110bn-euro (£95bn) bail-out from the EU and IMF.
The reforms, which include reducing pensions, increasing the retirement age, cutting the minimum wage and easing restrictions on sacking workers, were due to be introduced under a presidential decree.
But so strong is the opposition from trade unions and a small segment of the governing Socialist Party, that the labour minister, Andreas Loverdos, has opted instead to put the new bill before parliament for approval, our correspondent says.
Strikes against austerity measures have brought the country to a standstill on several occasions, closing airports, roads and railways.
Tourism generates almost 20% of the nation's income, but bookings are currently down by about 10%, industry experts say.