Thanet Offshore Wind Farm gearbox faults 'solved'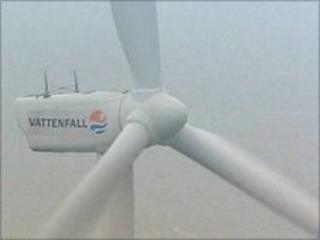 Gearbox problems which have plagued offshore wind turbines have been solved, a Swedish energy company has said.
Vattenfall already owns the 30-turbine Kentish Flats wind farm and is about to finish installing the 100-turbine Thanet Offshore Wind Farm off Kent.
At the Kentish Flats, turbines have had serious maintenance problems and some are on their fourth gearbox.
A spokesman for Vattenfall said problems had been overcome.
He said: "We have had several discussions with Vestas, our wind turbine supplier, but we believe the problems that we have had at the Kentish flats have been overcome out here."
Independent energy consultant John Large said: "The technical problems are this; you have a long stalk called the mast, you have about 150 or 200 tonnes sitting on top of it with a great rotor that's vibrating and pulsing and fluttering.
"Now all of that has to be transmitted into a gearbox and then produced into electricity via a generator, and it's the design of the gearbox that's given tremendous problems."
Largest wind farm
The Thanet Offshore Wind Farm is expected to generate enough electricity for 240,000 homes.
It supplied power to the National Grid for the first time on 16 May and is expected to be fully operational in the autumn.
Construction started a year ago at the £780m wind farm, which can be seen from the coast on a clear day.
The Kentish Flats wind farm, off Herne Bay, was one of the UK's first such projects when it opened five years ago.
The Thanet Offshore Wind Farm is currently the world's biggest wind farm. But the larger London Array project, which will have 341 turbines in the Thames Estuary and is backed by energy firm E.ON as a major backer, will enter its offshore construction phase next year.