Cars destroyed in spate of fires in Jersey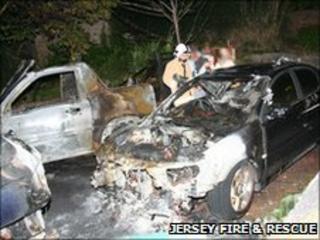 Three cars have been burned out in a spate of fires in a Jersey parish, crews have said.
The fires were reported in the Mont Sohier area of St Brelade, at about 2300 BST on Tuesday.
Fire crews were called to a garage, three cars and a bin that were all alight.
Police, who have started an investigation into the blazes, have arrested two 16-year-old boys in connection with the fires.
Larry Vibert, watch manager for Jersey Fire and Rescue Service, said: "Numerous concerned neighbours joined property owners in calling the service after fire engulfed three vehicles."