Plymouth City Council criticised over World Cup trip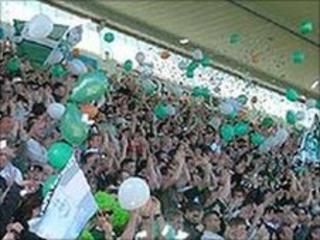 Plymouth City Council has been criticised for spending £5,700 of taxpayers' money flying people out to the World Cup in South Africa.
Council leader Vivien Pengelly and chief executive Brian Keel attended as Plymouth wants to be a host city if England stages the 2018 World Cup.
Tudor Evans, leader of the Labour party at the council, has called on them to refund the money the council spent.
However, the council has defended the trip, claiming it was worthwhile.
Cllr Pengelly and Mr Keel were part of a delegation from Plymouth who went on the trip which was arranged, and partly-funded, by the Football Association (FA) for representatives of candidate host cities.
Lessons learnt
The aim of the fact-finding trip, which included visits to three host cities, was to meet organisers of the current World Cup and to learn from their experiences of staging it.
According to Plymouth City Council, if England hosts the 2018 World Cup and Plymouth becomes a host city for matches, the local economy could benefit by about £300m and more than 3,500 jobs could be created.
Barry Keel, Chief Executive, said: "It was very important that Plymouth is represented at a high level and if we had not been here we would have been the only potential host city not represented and this would have sent a poor message about Plymouth's level of ambition and commitment.
"There's a lot of issues I learned from my colleagues in Cape Town and Johannesburg that will help us not only bid but, if we are successful, run the whole tournament if it does come to Plymouth - and that is very useful."
Cllr Pengelly added: "We did think long and hard about whether we could afford to take part in this visit at a time of such economic difficultly for the council and the public sector as a whole but on balance we felt it would have been a false economy not to have come.
"Not only are the potential gains for everyone in the city so huge but it would have sent out a very poor message about the seriousness of our ambitions for the city.
"I think it was very important we went, we've come back with a massive amount of information."