Stoke-on-Trent city sculpture 'did not top poll'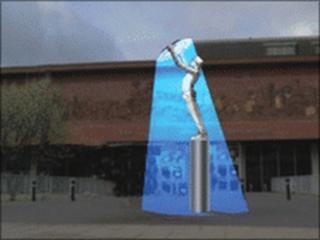 A sculpture picked to celebrate the centenary of Stoke-on-Trent was not the one most people in the city voted for, figures have revealed.
Light Source, the design chosen by the council's panel of experts, came second with 161 votes to Regeneration's 165.
A website poll was topped by Light Source, but it only received four votes out of 39 in a vox pop on the streets.
The council said it did not think the public had got it wrong but the panel "also had votes to cast".
'Really close'
Hazel Lyth, cabinet member for economic development and culture, said it thought the public "did a fantastic job in informing us".
She said: "There were only four votes in it across the public vote and the other feedback informed us that we felt we would choose the second choice because that was a very positive response to the feedback we had.
"The votes were really close combined with the feedback from residents' associations, from the community groups and actually from the panel who also had votes to cast because it was a public vote, plus the panel.
"Then the choice was for Light Source."
The sculpture will go outside The Potteries Museum & Art Gallery.
There were four choices in the public art consultation, which received a total of 518 votes.
Regeneration received 23 out of 39 votes in the vox pop and one vote more than Light Source of votes cast by people using a touch screen system in the museum.
But Light Source got 80 votes compared to Regeneration's 64 online.
Defending the decision to choose the overall second choice sculpture Ms Lyth said: "I think we were quite clear about what we said that the public view would be taken into consideration, that we would consult with the public.
"We believe we've made a choice that represents what the population have told us they want and what we believe is a great thing for the city.
"I think you'll find my specific quote said 'informing the choice' for the piece of art."