Ritz plot accused says 'victim tried to pump up' deal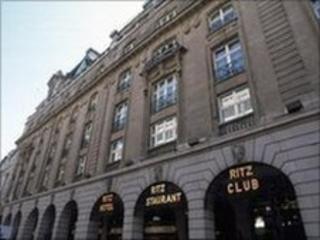 A man accused of being involved in a scam to sell London's Ritz for £250m said the property dealers negotiating the sale tried to con a financier.
Anthony Lee, 49, said property dealer Terence Collins and agent Karen Maguire "pumped up" the deal to con Dutch financier Marcel Boerkhoorn.
Mr Lee, Conn Farrell, 57, and Patrick Dolan, 68, deny defrauding Mr Collins and Mr Boerkhoorn.
The trio allegedly tried to sell the hotel owned by the Barclay brothers.
Mr Lee, of Goole, East Yorkshire, Mr Dolan, of Tottenham, north London, and Mr Farrell, of Aldershot, Hampshire, deny conspiracy to defraud between January 2006 and March 2007.
Giving evidence at Southwark Crown Court Mr Lee said Mr Collins and Ms Maguire were trying to get £1m as deposit from the billionaire interested in purchasing trophy properties so they could pay the defendant for another deal which collapsed.
He said: "For me, they're just jumping the gun all the time to acquire the £1m from Mr Boerkhoorn.
"From what I can see, it's a commercial deal that's gone completely wrong."
He also denied having a contract for sale of the hotel or knowing the Barclay twins, which the prosecution allege the three accused repeatedly mentioned to make the deal seem believable.
He said: "We've never had a contract, full stop.
"We was waiting for funding. I've had no scam with any of this, full stop."
"Ms Maguire has just been pumping it up to do this deal because obviously she's seen the pound notes."
When asked about the documents signed by lawyer Mr Farrell, which claimed Mr Lee was in a position to sell the property for £250m, he said lawyers "sometimes take things in their own hands".
"This would never have got out of the stalls, full stop, because there was never funding there."
But under cross-examination by prosecutor Anuja Dhir QC Mr Lee agreed that the £1m was deposited in his account while Mr Collins and Ms Maguire did not receive anything.
The court heard Mr Boerkoorn thought the money was a deposit for the Ritz deal.
The trial continues.