Another Royal Marine killed in Afghanistan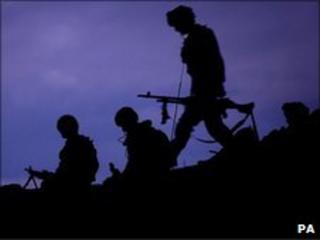 A Royal Marine has been shot dead in southern Afghanistan - the fourth from 40 Commando to die in as many days, the Ministry of Defence said.
The marine was conducting a security patrol to reassure locals in the Sangin district of Helmand province when he was shot by insurgents on Wednesday.
Lt Col James Carr-Smith said his courage would not be forgotten.
A total of 303 UK service personnel have now been killed in Afghanistan since the conflict began in 2001.
Col Carr-Smith, spokesman for Task Force Helmand, said: "His courage in the face of danger and his selfless commitment will not be forgotten.
"He will be deeply missed by all who knew him. We will remember him."
The marine's next of kin have been informed.
News of the latest death came shortly after another marine killed in a blast on Monday was named as Paul Warren, 23, from Leyland, Lancashire.
A third unnamed marine was killed on Tuesday following a gun battle in the same district of southern Afghanistan.
On Sunday Richard Hollington became the 300th member of the UK forces to die in the Afghan conflict.
The 23-year-old, of Petersfield, Hampshire, died at Queen Elizabeth Hospital in Birmingham eight days after being wounded in a blast.
His father, Robin Hollington, has demanded a personal explanation from Prime Minister David Cameron about Britain's role in the conflict.
He told told ITV News: "I do not see a huge amount of progress being made and it would be extremely interesting to hear from Mr Cameron... exactly why we are there.
"Because I don't think the public are being told enough to justify what is going on at the moment."