Sudan: German THW aid workers kidnapped in Darfur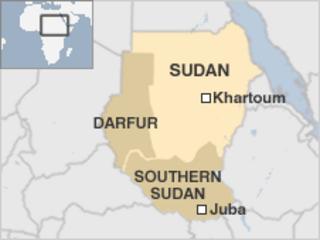 Two German aid workers have been kidnapped in Sudan's Darfur region.
The men were working for the German group Technisches Hilfswerk (THW), which provides technical assistance to aid projects.
An aid official said the gunmen entered their compound in Nyala, the main city of South Darfur, the first such abduction in a Darfur state capital.
Meanwhile, there have been reports of further fighting in the north of Darfur between the army and rebels.
Clashes in Darfur have intensified since Justice and Equality Movement rebels suspended its participation in peace talks last month.
Army spokesman Maj Sawarmi Khalid Saad said 43 Jem fighters and seven soldiers were killed during the fighting in the Uzban region.
The rebels confirmed that their positions had been attacked on Monday and Tuesday, but said that they won the battle.
About 600 people died in violence in Darfur last month - the highest monthly toll since UN and AU peacekeepers - known as Unamid - were deployed in 2008.
'Dismay'
Unamid's spokesman said the kidnappers also briefly held a Sudanese employee before leaving in the direction of Kass, a city north of Nyala, with the two THW workers.
"They were kidnapped on Tuesday evening from their office in Nyala by armed men in civilian clothes," spokesman Kemal Saiki told AFP news agency.
An aid official, speaking on condition of anonymity, told Reuters news agency that THW - a German state-funded relief agency - was days away from pulling out of South Darfur state because of a lack of funding.
Correspondents says news of an abduction inside one of Darfur's three state capitals will dismay humanitarian agencies that have already withdrawn many foreign staff from remote locations after a wave of kidnappings.
According to the UN, an estimated 300,000 people have been killed in Darfur and more than 2.6 million displaced since ethnic rebels took up arms in 2003.
The Sudanese government, however, says such figures are a massive exaggeration.
Sudanese President Omar al-Bashir is wanted by the International Criminal Court (ICC) for alleged war crimes committed in Darfur - charges he strongly denies.