Claim objectors tried to 'sabotage' Pembrey festival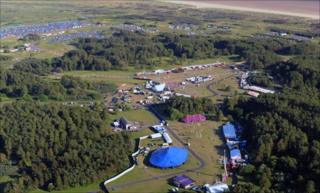 A council claims some objectors to a student festival held in a country park attempted to sabotage the event.
Carmarthenshire council said hotel reservations were "mysteriously cancelled" and road cones moved causing traffic problems at Beach Break Live.
Dyfed-Powys Police are investigating after a pipe supplying water for toilets and showers was cut hours before the event started.
Around 12,500 students attended the festival at Pembrey County Park.
Some people in Pembrey and Burry Port had objected to the festival which saw the park closed to the public for a week.
But Carmarthenshire council said despite what it termed a "dirty tricks campaign" the event was a "tremendous success".
The authority said hotel and guest house bookings were cancelled for many of the 1,000 site preparation staff in the week before it started by anonymous callers suggesting the event had been called off at short notice.
It said two hours before the start students were left without water to shower blocks and more than 300 portable toilets because a water pipe had been severed with a hacksaw.
Police have confirmed they are investigating.
The council alleges entry to the site was hampered by people moving direction road signs and bollards that caused a bottleneck of coaches and long delays.
In a statement festival director Ian Forshew said the majority of local people had welcomed the festival.
But council executive board member for leisure Clive Scourfield said: "Mr Forshew, members of his team and county councillors and officers have been subjected to a lot of unwarranted abuse for an event that has ultimately triumphed by being a success in every way and will probably be the salvation of the park for the future."
The council said by staging the event the park had made over £60,000 - wiping off its debt.