England match triggers net surge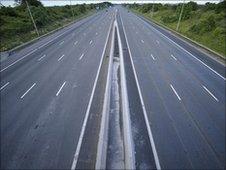 UK internet traffic rose by almost a third during England's crucial World Cup match against Slovenia.
Figures released by internet service provider KC suggest that the game triggered a 31% jump in web traffic, as users watched the game via the BBC's live online stream.
Early figures suggest the total number of 'concurrent streams' peaked at 800,000 although the total number of viewers will be many times higher.
The BBC said this was a viewing record.
Concurrent streams is the peak number of people who were watching or listening at any given point during the game. It is not the same at the total number of unique users, which is considerably higher.
A spokesman for the BBC said the figure was a very early estimate, a more accurate figure would be released in the next 24 hours.
ITV came in for recent criticism when its servers struggled to cope with demand during the opening game between Mexico and South Africa.
Early reports suggest that the BBC servers managed to cope with the massive rise in demand.
A spokesman for the BBC said that they had "set aside as much capacity on our servers as we reasonably can" but warned that users' own connection speeds could still have an adverse effect on the quality of the stream,
"The open internet isn't an end-to-end managed network, so people's experiences vary depending on their internet connection," read the statement. 
The surge in demand may well have been triggered by the fact many firms had made little, if any provision for their staff to watch the game in a more traditional way.
A survey of 1,500 small businesses by the software developer Sage found that only 20% of firms had taken steps to prevent staff absenteeism during England's games, with measures such as introducing a TV to the office during the tournament.
The World Cup 2010 has already broken several records for internet traffic.
Findings by Akamai suggest that global web traffic on the first day of the World Cup exceeded the limit set when Barack Obama won the US presidential election.
One the first day of the competition, traffic for news sites reached nearly 12.1 million visitors per minute, compared to 8.5 million visitors per minute during the night of the US presidential vote.
England play their next game on Sunday 27 June against either Germany or Ghana.
Related Internet Links
The BBC is not responsible for the content of external sites.