Reconstruction plan over murder of Ffion Wyn Roberts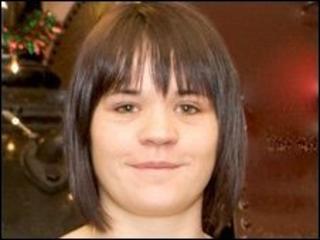 Police investigating the murder of Ffion Wyn Roberts in Gwynedd plan to stage a reconstruction to be broadcast on the BBC's Crimewatch programme next month.
A studio-based appeal for information was made on the programme last week.
Ms Roberts, 22, was found strangled in a drainage canal in Porthmadog on 10 April, after a night out.
Businesses in the town have offered a £10,000 reward for information leading to arrest and conviction for her death.
Last week police appealed for information about a pair of jogging trousers and a trainer which were found - along with Ms Roberts' handbag - near a sluice gate a short distance from where her body was discovered.
The make of trainer was Ascot Alaska and the blue track suit bottoms were extra large, with two white stripes down the side and a faded tag inside saying 'original'.
Insp Neil McAdam, from North Wales Police, who appeared on the Crimewatch programme, said there had been a positive response immediately following the TV appeal.
Det Super Peter Chalinor, who is heading the investigation, said that in response to the Crimewatch programme they had received a number of calls from members of the public, and they were following them up.
"We are working very closely with Crimewatch on this matter and plan to hold a reconstruction scheduled for broadcast next month," he added.
Anyone with information is asked to contact police on on 0845 6071001 (Welsh language line) or 0845 6071002 (English language line) or Crimestoppers Wales anonymously on 0800 55511.