Police criticised over response in children death case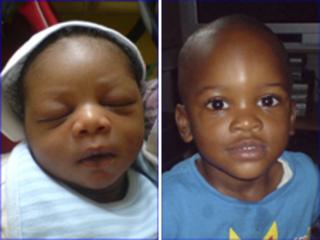 Greater Manchester Police have been criticised for their response to calls about a mother who killed her children.
Romario Mullings-Sewell, two, and his brother Delayno, four months, were found dead at Jael Mullings' home in Cheetham Hill on 12 November 2008.
An Independent Police Complaints Commission (IPCC) probe criticised a lack of resources and call handling.
Police took 90 minutes to respond to a call from a medical centre about Mullings - 30 minutes outside targets.
Naseem Malik, IPCC commissioner for North West England, said: "A call was made at 1.17pm expressing serious concern for a woman and her children - yet the first police officers did not arrive on the scene for 90 minutes.
"Given the grading of the call, that is 30 minutes outside the police target.
"But even if the call had been given a priority grading requiring a response in 10 minutes, it would appear the radio operators would still have struggled to resource the incident in a timely manner."
'Terrible tragedy'
Jael Mullings, who had paranoid schizophrenia, stabbed the children to death, but it is not clear at what time, the IPCC said.
She later admitted manslaughter with diminished responsibilities.
IPCC commissioner Naseem Malik said: "This was a terrible tragedy.
"Not just because it involved the death of two innocent young children, but also because it was at the hands of their mother who was clearly unwell and in need of medical help."
Telephone calls were made from a medical centre about Ms Mullings behaviour and the welfare of her children, the IPCC said.
Ms Malik said her investigation of the lead-up to the incident found radio operators had a lack of resources at their disposal.
"Resourcing is classed as a direction and control matter and, as such, is not a subject under the investigative remit of the IPCC," she said.
"But I feel duty bound to comment on the evidence seen in this investigation and the comments made by officers and staff.
"This was a situation where staff were put in a nearly impossible position where they could not resource incidents. That must be of concern to the Chief Constable.
"I fully appreciate police resources are stretched and will be stretched further in the current economic climate.
"But when the public make emergency calls they have the right to expect an appropriate and timely response."
Ms Malik said the errors did not amount to misconduct but the individuals involved must learn from them.
She also said the errors did not lead to the children's deaths.
Assistant Chief Constable Terry Sweeney, of Greater Manchester Police, said the force had implemented the Manchester Safeguarding Children's Board recommendations to improve the way they deal with vulnerable people.
"The police were faced with a confusing nature of events that led to this tragic incident, and it has been highlighted in the report there is no evidence that the speed of the police response affected the outcome."
He said "significant training" on how to support and protect vulnerable people was being given to all frontline police officers.