Ethnic Uzbeks in Kyrgyzstan freed after abduction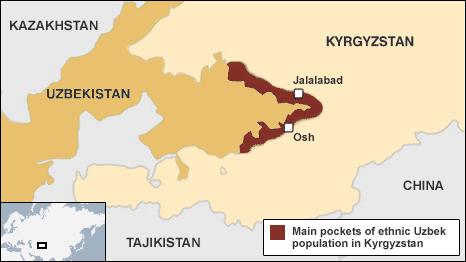 A group of ethnic Uzbek officials were briefly kidnapped in Kyrgyzstan before being released.
The six officials, all women, were seized by a crowd at a polling station in the southern city of Osh, the Central Election Commission said.
However, news agencies say the situation has now been resolved and the women have been freed.
Ethnic violence between Uzbeks and Kyrgyz people broke out on 10 June.
The kidnapped women were due to act as officials during a referendum on Sunday. Kyrgyzstan will vote on a package of constitutional reforms which would give greater powers to the prime minister.
As many as 2,000 people may have died in the fighting earlier this month, Kyrgyzstan's interim president has said.
About 400,000 people have fled their homes since the violence began, with many ethnic Uzbeks crossing into Uzbekistan.
The unrest comes two months after the country's former president, Kurmanbek Bakiyev, was forced out of office.
The interim government has blamed Mr Bakiyev for stoking the conflict ahead of the referendum on Sunday.
Mr Bakiyev, who is in exile in Belarus, has rejected the allegations.
Ethnic Uzbeks have mainly supported the interim government.
The European security body, the OSCE, has called for an international police force to be deployed in southern Kyrgyzstan.
The OSCE's special representative for Central Asia, Kimmo Kiljunen, said it could create an "atmosphere of trust" in the region.
Police in Osh have raided Uzbek neighbourhoods in what they say is an effort to restore order. Uzbeks have accused the police of brutality and looting.