Sinn Fein 'being let off hook' on expenses - Cameron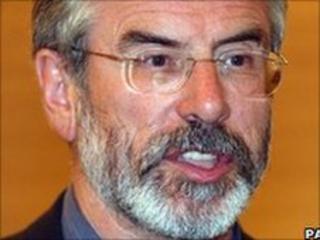 Sinn Fein MPs who choose not to attend Parliament but still claim expenses are being let "off the hook", the prime minister has said.
David Cameron pledged to "re-examine" the rules which currently allow the payment of allowances to the party's five MPs.
The MPs include party president Gerry Adams and NI Deputy First Minister Martin McGuinness.
Mr Cameron's comments were made during Commons question time on Wednesday.
The five MPs do not get a salary as they refuse, as Irish republicans, to swear an "oath of allegiance" to the Queen.
But they have been given office accommodation and can claim expenses as part of their responsibilities.
At Commons question time, the DUP's William McCrea asked: "Do you believe that it is acceptable that members' allowances are being paid for members of this house who do not take their seats nor do they participate in the work of this house?
"When will this injustice be remedied?"
Mr Cameron replied: "I would like us to look and see if we can make the argument where there isn't a case for Sinn Fein members not to take their seats.
"I think at the moment we let them off the hook. So I would like to re-examine this argument and see if we can find a new way of doing this."
Commons Leader Sir George Young said earlier this month that the payment of allowances was no longer a matter for the government and was now dealt with by the Independent Parliamentary Standards Authority (Ipsa).
Sinn Fein MP Pat Doherty said his party would "resist any attempts to discriminate against our electorate by the current Tory government".
"We are active abstentionists. We receive a mandate from the electorate to represent them in this fashion," he said.