Teenager dies after South Yorkshire lake search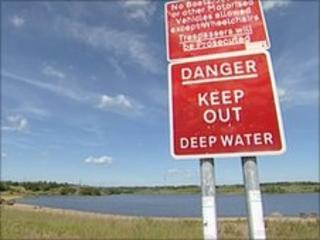 A 15-year-old boy has died after being found by police divers in a lake in South Yorkshire.
The teenager, who is from Rawmarsh, was discovered on Wednesday afternoon in a large lake off Manvers Way in Wath-upon-Dearne near Rotherham.
He had been with a group of teenagers, some of whom were swimming.
Paramedics gave medical treatment to the boy before taking him to Sheffield Children's Hospital where he was pronounced dead.
South Yorkshire Police said the emergency services were alerted at 1220 BST following concerns about the safety of the group from a passerby.
Officers went to the lake and discovered that one boy was missing.
"Police quickly scrambled extra resources to the area when it was found that one teenage male was unaccounted for," a police spokesman said.
"Police searched the area looking for the male and at about 1400 BST police divers pulled the body of a young man from the water."
Police said there were four teenagers at the scene when they arrived.
Three were in the water and one was on the side of the lake.
Pete Flint-Murray, 26, who was cycling by at the time, said he saw a few ambulances and police divers at the scene.
He said: "There were various police officers, the underwater search unit, a few ambulances and a fire brigade."
In June 2005, the body of 18-year-old Adam Peterson, from Goldthorpe, was recovered by police divers from the lake.
He had been out with friends who had raised the alarm when they saw him disappear beneath the lake's surface.
Shortly after, his parents, Diane and John Peterson, urged young people not to swim in open water.
South Yorkshire Fire and Yorkshire Service have issued a warning about the dangers of playing in water.
Incident commander Steve Green said: "I would take this opportunity to warn people that playing in water presents a number of different hazards.
"Whilst the temptation during hot weather may be to cool off in lakes or rivers, it is impossible to gauge their temperature, flow or depth."
Firefighters from the Wath-upon-Dearne station will be at Manvers Lake on Sunday to speak to members of the public about water safety.