Murdered vicar's vision of church hall realised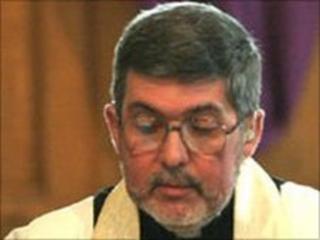 A community hall that had been the vision of a parish priest before he was stabbed to death three years ago will be opened later.
Father Paul Bennett had begun plans to transform the hall at St Fagan's, Trecynon, Aberdare when he was killed.
His parishioners and new vicar the Reverend Kevin Lake worked to secure the £200,000 needed to complete the project.
The hall will be opened with a service led by the Archbishop of Wales.
The new hall will be used by groups of people of all ages, from parent-and-toddler groups and Brownies to adult learning classes, as well as being a base for the parish.
'Significant moment'
Most of the money which paid for it came from a variety of grants, including the Welsh Assembly Government's community facilities and activities programme and one from Amgen Environmental Body, a landfill communities fund.
Archbishop of Wales Dr Barry Morgan said the opening of the new hall was a significant moment for the whole community.
He said: "The inspiration behind this came from Father Paul who recognised the need in the community for a modern, comfortable place to meet and saw how the church could provide it."
He added: "We pray that the new hall will strengthen the community of Trecynon and help ease the pain still felt from the brutal loss of a man so many described as the 'heart of the community'."
Mr Lake said the project represented the "culmination of years of aspiration and work, set in motion by Father Paul".
He said: "We all appreciate the time and effort that has gone into the design and construction.
'Wider community'
"Together they represent the desire of our parish project to rebuild our future, to bring greater unity between our churches and to reach out to the wider community with a hall which can truly be a focal centre of our community."
Paranoid schizophrenia Geraint Evans was detained indefinitely three years ago for killing Father Bennett.
More than two years after his death Health Inspectorate Wales (HIW) found serious failings in the treatment of Evans, who had had problems from the age of 11 and was not assessed in 2006 after he went to hospital for a self-harm incident.
The report stated that had Evans received a full assessment after self-harming, a diagnosis of psychosis could have been made, and treatment begun.