Profile: Kevin Rudd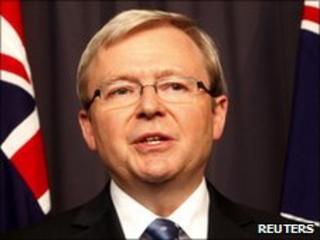 Kevin Rudd became Australia's 26th prime minister after an emphatic election win by his Labor party in November 2007.
Considered one of the most popular leaders in recent history, his support has fallen dramatically over during 2010.
The culmination of several unpopular moves has resulted in him being forced to accept a challenge to his position as party leader, ahead of elections later in the year.
Mr Rudd swept to victory on a wave of opposition to the Iraq war and support for his promises on healthcare, education and climate change - with the win dubbed by some as "Ruddslide".
The Economist newspaper once described him as "possibly the most enigmatic prime minister Australians have ever elected".
Popularity fall
On his first day of office, he made good on one promise by signing the Kyoto climate agreement.
In February 2008, he made a formal apology to Australia's Aboriginal people for the policies that created the so-called stolen generations - those who, as children, had been separated from their families.
He is credited with managing the country's economy well, with Australia being one of very few countries to avoid the global recession - mainly due to a well-directed fiscal stimulus.
A $41bn (US$37bn) deficit is forecasted to become a surplus in 2012-13, three years earlier than expected.
The government's debt was - even at its peak - only a fraction of that of other rich G7 countries during the crisis.
But Mr Rudd's opinion poll rating plunged after a number of policy setbacks.
One of these was an emissions trading scheme, regarded as the centrepiece of his environmental strategy - but which was shelved.
Having once described climate change as the greatest moral challenge of our time, his desertion of the policy led to accusations of political cowardice, says the BBC's Nick Bryant in Sydney.
He then entered a dispute with the country's powerful resources sector.
His plan for a "resource super-profits tax" of 40% on the profits of mining companies was not received well.
Our correspondent says that, when Mr Rudd's ratings began to drop, powerful factional leaders in his Labor party moved against him.
Rural upbringing
Born in September 1957 in the coastal hinterland north of Brisbane, Kevin Michael Rudd lost his father - a farmer - at the age of 11.
Apparently facing eviction from the farm and with nowhere else to go, his mother, Margaret, was forced to sleep overnight in a car with two of her four young children.
Four years later, Mr Rudd joined the Australian Labor Party, his family's experience of hardship having partly contributed to the decision.
As a student he studied Chinese language and history at the Australian National University, from where Mr Rudd joined the foreign service, serving as a diplomat in both Sweden and China.
But in 1988 he decided to change paths and became the chief of staff to the Labor premier in Queensland.
Ten years later, after carving out a reputation as a competent if slightly humourless technocrat - colleagues nicknamed him Dr Death - he won election to parliament for the Queensland seat of Griffith.
Whilst he harboured prime ministerial ambitions when he first arrived in Canberra, it would be eight years before he became Labor leader, after impressing colleagues with his performance as Shadow Minister for Foreign Affairs.
A committed Christian, with a neat turn in soundbites, he seemed particularly well-equipped to appeal to the suburban swing voters who tend to decide Australian elections.
In December 2006, he won the leadership, despite not having many close friends in the Labor caucus and little personal following.
His popularity soared and a year later he ousted his predecessor, John Howard.