Coalition a poor ideological fit, says Lib Dem MP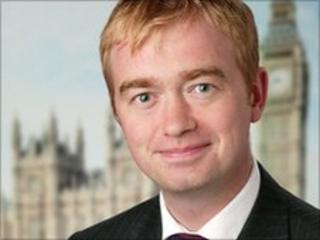 The coalition partners are "ideologically a poor fit", a prominent Liberal Democrat MP has told the BBC.
Tim Farron, who recently ran for his party's deputy leadership, said there was a "very clear difference" between David Cameron and Nick Clegg.
It felt "very odd" sitting alongside Conservatives in the Commons, he added.
The comments come a day after the coalition's first Budget, which included raising VAT, a policy previously opposed by the Lib Dems.
There have been reports that some senior figures in the party are unhappy about child benefit and public sector pay freezes by Conservative Chancellor George Osborne.
'Get on well'
Mr Farron, who lost out to Simon Hughes for the party's deputy leadership two weeks ago, told the BBC's Laura Kuenssberg he thought "compromise was part of the coalition" but there were elements of the Budget which would hit the poor hardest.
He said: "I'm sure he [Mr Clegg] and David Cameron get on perfectly well as individuals.
"But Nick Clegg is a social liberal, a liberal democrat in the truest tradition, and whilst I'm sure he respects David Cameron's ideas, in the sense that they are working together, there is a very clear difference between the two of them. There will be lots of things that jar with them ideologically.
"It's very very odd to be sitting amongst a group of people I spent 20-odd years fighting against."
Mr Farron, MP for Westmorland and Lonsdale, also said the Lib Dems disagreed with the Conservatives view that the public sector is "bloated".
During the Lib Dem deputy leadership contest both Mr Farron and Mr Hughes suggested the party should have "shadow" ministers for Whitehall departments where only the Conservatives are represented.