Staff checked 'wrong' line before Potters Bar crash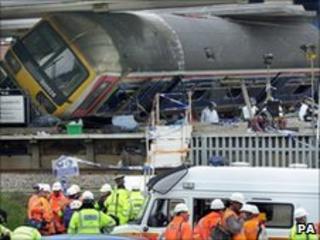 A rail manager who spoke to a concerned passenger 16 hours before the Potters Bar rail crash sent staff to check the wrong line, an inquest has heard.
Terence Moore told duty manager David Castle his train had "jolted violently" south of Potters Bar station.
Mr Castle told jurors he assumed Mr Moore was going to London and requested checks only on the southbound line.
Seven people died on 10 May 2002 when a train hit faulty points south of the station in Hertfordshire.
Mr Moore, a station announcer at Finsbury Park station in north London had been travelling home to Stevenage in Hertfordshire when his train "violently" shook as it crossed points south of Potters Bar station.
He called the signal box at King's Cross to report his concerns.
'Lethal'
The jury heard that Mr Moore had identified the train he was on and told Mr Castle: "I just came back. Coming from work. Coming home on 1C39."
He described where the "rough ride" had taken place and warned: "The train seems to bounce... it could be lethal."
Mr Castle told jurors he did not check which direction train number 1C39 was going towards and just "assumed" it was heading south.
Mr Moore initially told a supervisor at Finsbury Park about his concerns who also called the King's Cross signal box.
Mr Castle revealed to the jurors that more credence was given to such "rough ride" reports from train drivers but none had reported any problems at Potters Bar on 9 May.
However he stressed that passengers' calls were not "disregarded".
The jurors heard that Mr Castle would have been aware of the importance of not making assumptions because of his training.
Earlier this week the inquest heard that Mr Moore also told a ticket seller about his concerns after disembarking from the train at Stevenage station.
Company boss Peter Prime also told rail staff he had felt his train "lurch" near Potters Bar, the jurors heard.
The inquest, due to end later this summer, will examine the deaths of Austen Kark, Emma Knights, Jonael Schickler, Alexander Ogunwusi, Chia Hsin Lin, Chia Chin Wu and Agnes Quinlivan.
More than 70 people were also injured when the 1245 London to King's Lynn, Norfolk, train hit faulty points south of Potters Bar station.