Eccles homes hit by power cut during England match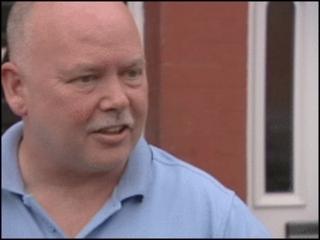 More than 1,000 homes in Salford suffered a power cut during England's World Cup match against Slovenia.
United Utilities said the electricity went off in about 1,300 households in the Eccles area at 1430 BST due to an underground cable fault.
Power was restored to 1,000 homes an hour later, but 323 homes were still affected at 1700 BST.
A spokeswoman for the company said engineers were working to resolve the problem by 1900 BST.
United Utilities has apologised for any inconvenience caused.
'Very annoyed'
Stuart Murray, relief landlord from The Park Hotel, said they'd lost a lot of customers as a result of the power cut.
"The power went off about half two-ish and we had quite a few customers in, and all of a sudden they all disappeared looking for somewhere to watch the football," he said.
"It was annoying, we've lost all the trade for the afternoon. We've got some back but once they go away and settle for the day they're not going to come back.
"There were a lot of upset people as a lot of people had taken the time off work to come and watch the football and weren't able to do so."
One resident affected by the cut, Dave Spencer, resorted to listening to the match in his car.
"I'm off work this week, and I settled down for the match at twenty past two, and bang the whole power goes off and all the alarms are off on the street," he said.
"I am very annoyed about it. The simple reason is it's not just me, but other people in the street have planned their working day, got home to find there's nothing available."
Another resident, James Burtonshaw, said: "I came back to watch the final bit of the game and there's no power so it's not very good.
"I think everyone's in the same situation.
"It's a crucial game, I've just been on my phone to see what the end result was so I can see it's one-nil, bit I would have liked to have watched the match."