Man admits killing Welsh soldier outside Newcastle club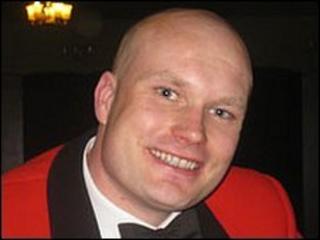 A man has admitted killing a soldier from Pembrokeshire after attacking him outside a nightclub in Newcastle.
Staff Sgt Chris Chacksfield, 31, of the 14th Signal Regiment (Electronic Warfare), was assaulted outside Babylon 90 in Newgate Street on 31 May.
Michael Ridley, 22, from Sceptre Place in Newcastle, pleaded guilty to manslaughter at Newcastle Crown Court and was remanded in custody.
The soldier was staying at Albermarle Barracks in Northumberland at the time.
Sentencing was adjourned until a later date.
Staff Sgt Chacksfield, from Haverfordwest, was taken to hospital after the incident, but died from head injuries.
Police said the soldier, who was with colleagues at the time of the incident, was not in uniform at the time and was not believed to have been targeted because of his occupation.