UK 'committed' to Afghan role despite McChrystal exit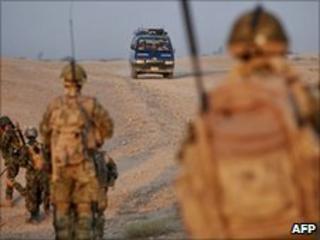 No 10 has said it remains "absolutely committed" to the UK's mission in Afghanistan despite the sacking of the US commander heading operations there.
US President Barack Obama axed General Stanley McChrystal after he made critical comments about his administration in a magazine interview.
President Obama spoke to Prime Minister David Cameron after the decision.
Downing Street said the government's determination to make progress in Afghanistan was "undiminished".
Gen McChrystal, who has had overall command of Nato operations in Afghanistan since May 2009, was credited with turning the tide in the fight against the Taliban counter-insurgency and reducing civilian casualties but critics say progress has stalled recently.
British resolve
He was summoned to the White House on Wednesday after making critical comments about the administration's strategy and the attitudes of senior officials.
President Obama said he had accepted his resignation with "regret" and nominated General David Petraeus to take over the key military role.
In the meantime, Lt Gen Nick Parker, the British officer who is currently second-in-command of Nato forces in Afghanistan, will take charge of operations.
In a statement, No 10 said Mr Cameron had impressed upon President Obama Gen Parker's "determination that the mission in Afghanistan would 'not miss a beat' during this period".
"The prime minister and the president remain absolutely committed to the strategy in Afghanistan," it added.
"The British government's resolve to support our brave servicemen and women and make progress in this crucial year is undiminished. It is vital for our national security that Afghanistan should never again be a safe haven for Al-Qaeda."
Defence Secretary Liam Fox said Britain "stands shoulder to shoulder with the US in our determination to see through the mission in Afghanistan".
He dismissed suggestions that Gen McChrystal's departure would disrupt progress in Afghanistan, saying there was a "clear" strategy in place and Gen Parker would provide "continuity" in the interim.
The UK has 9,000 troops in Afghanistan, with US and British troops conducting joint operations against the Taliban in Helmand Province in the south of the country. Earlier this week British forces suffered their 300th fatality since first entering the country in 2001.