Sir David Murray unveils £1bn plans for Edinburgh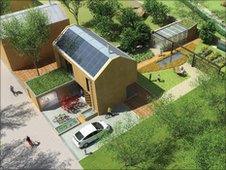 Sir David Murray has set out his most ambitious plan yet - investing nearly £1bn to develop land to the west of Edinburgh, on what is now greenbelt land.
The property-to-metals magnate, who also has a controlling stake in Rangers football club, wants the area, near Edinburgh Airport, to include a major visitor attraction dedicated to gardening, giving it the name of the Garden District.
Its sports village would have an athletics stadium for 25,000 spectators, with space for leisure facilities.
There is a suggestion it could be the base for a national curling academy.
With the intention of developing the 600 acre site over the next 20 years, it would include 3,500 homes. These would include many family houses, and a quarter of them would be in the "affordable category".
The plan is for them to rely on sustainable energy sources, with quick access to public transport, and links to the new tramline.
The pitch being made by Murray Estates, part of Sir David's group of companies, is to provide a blueprint for development that is so diverse and attractive that Edinburgh City Council and a consortium of south-east Scotland planners would agree to remove its greenbelt status. That currently puts a block on development.
Sir David bought the land in 1989, and it has since had an extension to the M8 built through it.
The idea for the "international garden showcase", which would be known as the Calyx, is taken from a trust led by Jim McColl, presenter of The Beechgrove Garden on BBC Scotland.
It would include themed gardens, education facilities and experimental horticulture.
There were plans for the centre to be in Perth, but it failed to get national backing.
In the west Edinburgh scheme proposed by Murray Estates, such costs would be met by the developer and funded from the profit on housing.
Sir David, chairman of Murray International Holdings said: "Our vision in 2010 for Edinburgh's Garden District has been carefully formulated over several years and we believe these ambitious proposals will provide a positive lasting legacy for the City.
"We are an indigenous company and one of the biggest employers in Scotland so we look forward to embarking on a project that could provide employment for the present and into the future.
"Edinburgh's Garden District will undoubtedly provide a significant boost for the Scottish economy, creating real jobs and investment."
Jim McColl commented: "Primarily designed to serve the people of Scotland, the Calyx will inspire, inform, educate and delight the people who visit.
"This will include many from outwith Scotland, drawn by its innovative design, its status as a centre of excellence and its role in educating the populace on some of the big issues that face society."
Related Internet Links
The BBC is not responsible for the content of external sites.