BBC and SNP withdraw legal review over election debate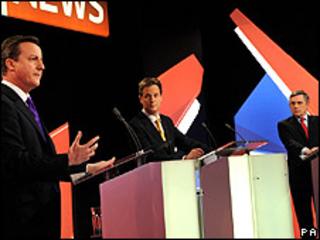 A court hearing over the SNP's legal challenge to the final televised general election debate will not go ahead.
A judicial review of the matter was scheduled to be heard at the Court of Session in Edinburgh.
However, both the SNP and the BBC said this had now been "withdrawn with the agreement of both parties".
The review was due to take place after the SNP failed to block the final live prime ministerial debate.
A total of three debates featuring David Cameron, Nick Clegg and Gordon Brown were televised during May's general election campaign.
In a joint statement, the SNP and BBC said: "As the arrangements for coverage of the next general election lie entirely in the future, both parties recognise that the SNP's application is now academic and substantial legal expenses would be incurred on both sides.
"From the BBC's perspective that would not serve the interests of licence fee-payers."
'Inherently unfair'
The party went to court in April, arguing that the debate should not be screened in Scotland if the SNP was not included.
The party had sought an interim interdict but Judge Lady Smith dismissed its call, and the debate which broadcast as scheduled.
In the hearing the SNP argued it was "inherently unfair" to exclude the party and that this was contrary to the BBC's requirement under its charter to show "due impartiality" in election coverage.
However, the BBC claimed that the SNP's demands were "impractical" and "ultimately pointless".
At the time SNP deputy leader Nicola Sturgeon said a judicial review of the matter was "important to ensure that the TV debates in this election campaign do not set an undemocratic precedent".