US interest rates held at close to zero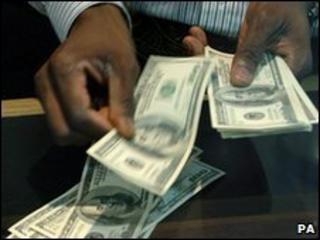 The US Federal Reserve has kept its main interest rate at close to zero, as doubts persist about the strength of the economic recovery.
The Fed said that the recovery was "proceeding", but that "financial conditions have become less supportive of economic growth on balance".
This largely reflected "developments abroad", the Fed added.
As a result, it said rates would likely remain "exceptionally low for an extended period."
But one member of the rate-setting panel disagreed with this assessment.
Thomas Hoening argued that by reiterating its belief that rates would remain low, the Fed's Open Market Committee was compromising its ability to begin raising them.
The committee said that while the labour market was improving and household spending was increasing, a depressed housing market and falling bank lending was constraining growth.
Earlier, official figures showed a slump in new home sales to a record low, raising concerns about the health of the US housing market.
"The pace of economic recovery is likely to be moderate for some time," the committee concluded.
The Fed has kept its short term interest rates in the zero to 0.25% range since December 2008.