Papers discuss US Afghan sacking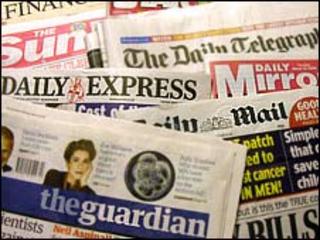 The decision by US President Barack Obama to sack the US commander of international forces in Afghanistan makes many of the front pages.
The Financial Times says Gen Stanley McChrystal's removal has shocked senior figures in the British armed forces who wonder if it was really necessary.
According to the Guardian, there is growing scepticism in Congress about Gen McChrystal's counter-insurgency strategy.
In an editorial it says the issue is not so much a dysfunctional team as a dysfunctional war.
Senior figures in the Obama administration have told The Times that his replacement, Gen Petraeus, was the only candidate acceptable to European allies.
It reports that the departure of another senior military figure - Sir Jock Stirrup as Chief of the Defence Staff - has exposed tensions within the administration on this side of the Atlantic.
Budget considerations
Many of the papers take the opportunity to study the Budget in greater detail and offer readers a more considered assessment of the government's strategy.
The Daily Mail believes the measures in the Budget are unavoidable.
Given the severity of the cuts, the paper says, it is now impossible to justify the ring-fencing of international aid.
The FT suggests cutting free bus passes and winter fuel payments.
Football jubilation
Images of England's jubilant footballers adorn many of the front pages as the papers celebrate the team's progress into the knockout stage of the World Cup.
The Daily Express is among several carrying pictures of empty motorways as millions of people took time off to watch the key game against Slovenia.
The Daily Telegraph believes it has uncovered Capello's sophisticated strategy behind England's remarkable improvement. "Fabio finds the secret", it says, "let the lads have a lager."