Cricket hero Sachin Tendulkar is given air force rank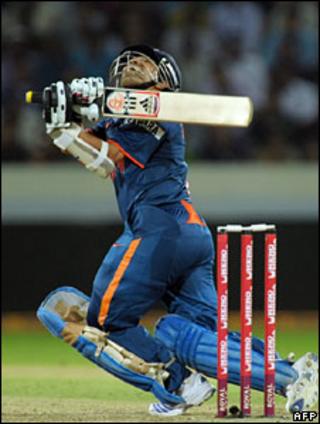 India's cricket star Sachin Tendulkar has been given the honorary rank of a senior officer by the Indian Air Force.
Tendulkar was conferred with the rank of group captain in recognition of his "glorious achievements as a cricketer and sports icon".
The 37-year-old cricketer holds the world record for most hundreds in both Tests and ODIs in a career spanning over 20 years.
He has been consistently voted as India's biggest icon over the years.
Tendulkar, who is presently out of India, said the award was a "great honour".
"As an Indian, I am very proud to be associated with this dynamic force and I shall do my very best to be a brand ambassador for the Indian Air Force."
A prodigy as a youth, his century as a 19-year old on an ultra-fast wicket in Perth is often regarded one of the best innings ever to have been played in Australia.
He was only 16 when he made his Test debut in 1989 and scored his first test 100, a match-saving innings against England at Old Trafford, a year later.
Tendulkar was regarded by the late Sir Don Bradman as the one batsman of the modern era who most reminded him of himself.
A tremendous performer in the one-day arena, Tendulkar is also the highest scorer and century-maker in that format.