Tens of thousands expected at Woking Tour Series 2010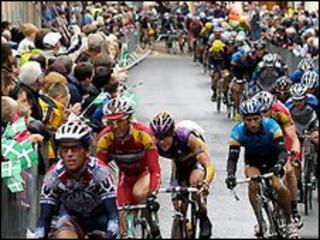 More than 10,000 people were expected to gather in a Surrey town to watch the final round of the Tour Series 2010.
Roads in Woking were closed until midnight and organisers were building the circuit in three-and-a-half hours before the event started at 1330 BST.
Woking council said roads would be closed off to allow the cyclists to be "kings of the road" during the event.
The Tour Series is a calendar of 10 races on town and city centre circuits at venues across the UK.
The elite Tour Series race features top cycling teams, but the Woking event includes races for schools and businesses as well as cycle demonstrations to involve the whole community.
Paul Fishwick, cycle Woking programme manager, said: "The roads need to be closed at 10am to allow for the course to be built.
"It only leaves three hours and thirty minutes to build the entire circuit and so it is a very tight schedule."
He added: "The whole point of having the Tour Series is to enable schools, businesses and local people to get involved and try out racing on a town centre circuit. The professional race is the icing on the cake for us."
The council said 10,000 people lined the streets last year to watch the event unfold and larger crowds were expected to gather to see this year's race.
'Avoid congestion'
Visitors have been urged to use trains or other public transport to visit the town, or to cycle to Woking to avoid congestion.
Roads closed were the A320 Guildford Road from the Sovereigns Pub to Lockfield Drive, including Victoria Road; Goldsworth Road from A320 Victoria Way to Coign Church roundabout; and Church Road West from Coign Church roundabout to A320 Victoria Way.
Diversion routes were in place while the road closures were in operation.
The council said Lockfield Drive would remain open at all times, offering all-day access to car parks at the Peacocks and Wolsey Place shopping centres.