Colchester Afghan tour soldiers urge 'no parcels'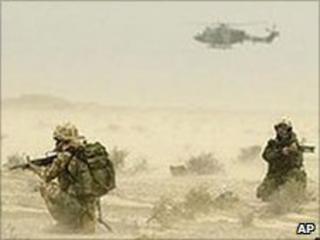 Soldiers based in Essex due to deploy to Afghanistan have urged people not to send parcels to prevent post from families being delayed.
Troops from Colchester-based 16 Air Assault Brigade will go to Afghanistan for six months in September.
Garrison commander Col Tom Fleetwood said because of the "unique relationship with the local population" soldiers are sent lots of parcels.
Instead he wants people to donate to Army charities instead.
Col Fleetwood said troops hoped people would carry on supporting them.
Most of the 3,500 troops from the brigade will be deployed to Afghanistan.
"Most people are aware that logistic supply in an operational environment is limited and dangerous, particularly in Afghanistan because the last leg of the journey is usually by helicopter.
"The mail system can be swamped by the public's generosity with the result that the all important personal mail from families becomes significantly delayed.
"The decision to accept only 'personal' mail will enable the prioritisation of resources for transporting essential combat supplies such as ammunition, medical supplies, food and equipment as well as personal mail," he said.