Protest at Lloyds TSB charity decision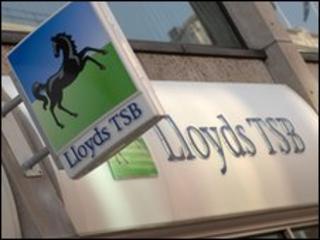 Charities in Dumbarton have delivered a letter to the town's Lloyds TSB in protest at the bank's decision to end its charitable foundation.
The banking group said in February that it plans to terminate its covenant with the Lloyds TSB Foundation for Scotland, which has received cash for 25 years.
The foundation has paid out more than £85m to Scottish charities.
A nine-year notice period means the funding relationship between the two will end in 2019.
Representatives from organisations such as Argyll and Bute Rape Crisis, Art in Hospital, Colston Milton Church, Positive Action in Housing and the Scottish Council for Voluntary Organisations took part in the protest march in Dumbarton.
Martin Johnstone, of Faith in Community Scotland, one of the organisers of the march, said the demonstration involved community groups which "have benefited from, or know of others who have benefited from, the foundation".
'Current covenant'
He said: "They just feel as though it would be a huge loss to some of the most vulnerable groups and communities in Scotland if the work of the Lloyds TSB Foundation in Scotland was not allowed to continue in the way it has.
"We see the march as an opportunity to deliver a letter to the local branch manager in Dumbarton.
"The letter calls upon Lloyds Banking Group to reverse its decision it made in February."
Lloyds has given the Scottish foundation £75m since Lloyds Bank and the TSB merged in 1995.
Four Lloyds TSB Foundations exist, covering Scotland, England and Wales, Northern Ireland and the Channel Islands, which all receive a 1% share of the bank's pre-tax profits.
The foundation in Scotland gets about a fifth of that money.
However bosses at Lloyds TSB Foundation for Scotland said the bank had proposed to reduce the proportion of pre-tax profit it gives from 1% to 0.5%.
The foundation declined the bank's offer twice.
A spokeswoman for Lloyds Banking Group said: "Lloyds Banking Group is committed to remaining one of the largest corporate donors to charities and worthy causes in Scotland.
"We have worked hard to reach a good and fair outcome with the Lloyds TSB Foundation for Scotland and have made a long-term offer to the foundation that would ensure Scottish charities continue to receive a stable, secure and growing level of grants."
Lloyds Banking Group plans to set up a Bank of Scotland foundation in due course, which will become its sole community investment vehicle in Scotland.