Landlord fears for business over Duffield gas main work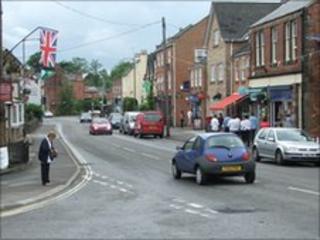 Major road works could damage a Derbyshire village, a local businessman has said.
The A6 through Duffield is being closed for at least eight weeks while gas mains are replaced.
Landlord of the King's Head, Andy Hadfield, believes the disruption and diversions could prove the final straw in tough economic conditions.
The National Grid, which is overseeing the work, said it was happening in the school holidays to limit its impact.
The project will replace more than 1km (0.62 miles) of metal pipes with plastic from Duffield Hall to King Street.
Safety constraints
While the closure is due to last about two months, works and temporary traffic lights will be in place until December.
Mr Hadfield, said: "I've been told that two businesses here are selling up because of this."
He added: "People are going to find other ways of getting past here and people are creatures of habit.
"People like me, who have regular customers, fear they will change the way they go back and I might not see them again."
Dave Orton, project manager for National Grid, said: "We have worked very closely with the Highways Authority on a suitable traffic management programme for this project.
"Due to engineering and safety constraints, a road closure is needed. By carrying this out during the school holiday period, we hope to reduce disruption to traffic, residents and businesses."