Darlington murder victim suffered sustained attack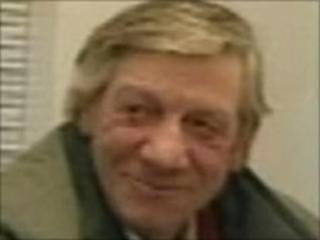 Detectives investigating the murder of a homeless man in a Darlington churchyard have said that he suffered a sustained and unprovoked attack.
The body of 59-year-old George Akers was found under a tree in the grounds of St Cuthbert's Church on 12 June.
A post-mortem examination revealed he had suffered serious internal injuries.
Police described him as a vulnerable man, known and liked by many people in the town, who often gave him cigarettes, sweets or spare cash.
Mr Akers had not been in regular work for about 15 years and had spent time at various addresses before ending up on the streets.
'Soft touch'
Det Supt Neil Malkin, who is leading the murder investigation, said: "It seems George was well-known in the area and was often on the receiving end of acts of kindness.
"But at some point between 9pm on the Friday and 7.30 the next morning he was subjected to a sustained and brutal assault, and died in the spot where he had slept for the previous few weeks."
He added: "From all that we have heard George Akers did not have an aggressive bone in his body.
"I think he was picked out and targeted because he was considered a soft touch, who would not have put up a fight."
Police want to trace two men in their late teens or early 20s, wearing light coloured shirts and dark trousers and seen near Sainsbury's in Clifton Road at about 2240 BST on 11 June, and then in the Market Place at 2300 BST.