Extreme tennis: the demands of a 10-hour game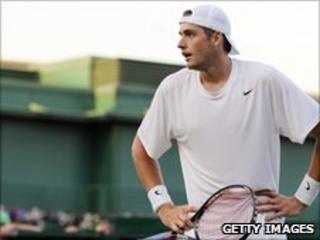 From the Tour de France to ironman triathlons, impressive feats of human endurance are not uncommon in sporting circles but they are not usually associated with tennis.
Yet after Wednesday's record-breaking game at Wimbledon, it is fair to say that the US's John Isner and France's Nicolas Mahut have changed that perception somewhat.
They will resume the 10-hour match today after ending locked at 59-59 last night.
The question is, what will the battle have done to them physically and mentally and will it have any long-term impact on their career?
Physical limits
Professor John Brewer, head of applied sport and exercise science at the University of Bedfordshire, agrees it was a truly amazing event and both players deserve the highest praise for their tenacity.
"Both of them are a credit to the fitness of modern tennis players. This has never been seen before."
It is fair to say that, even for players at the top of their game who are used to playing many days in a row for long periods, yesterday's match will have pushed them to their limits.
In terms of energy needs, the average tennis player will burn around 10 to 15 calories a minute, so even taking into account the intermittent nature of the game, they will have burnt at least 6,000 calories over the course of the match.
Initially their bodies will have been using "carbohydrate" energy in the form of glycogen stored in the muscles but this would soon have been depleted, says Professor Brewer.
"For high intensity exercise you would normally only have enough for about two hours so then they would have had to rely on their fat stores. Even lean players will have enough to allow them to continue but it will be at a much lower level."
Running out of energy is not just a physical problem as a drop in blood sugar levels can also affect mental performance - hindering decision-making.
"The other challenge is dehydration as they would lose about one to two litres of fluid an hour and we know that, if a tennis player loses 2% of their body weight through fluid loss, their mental and physical performance will suffer," he says.
Recovery
But these are world-class athletes, they know what to eat and drink and how best to recover, so will such a demanding game have any long-term effect?
Barring any injury, the answer to that is probably not, says Professor Brewer, but that may depend on how long today's match lasts.
"If it becomes another long game clearly it will be more difficult to recover before the next round but bear in mind they are used to playing day after day."
What is clear is that with fatigue comes a heightened risk of injury as players become less co-ordinated, potentially putting more strain on muscles and ligaments.
Dr David Fletcher, lecturer in sports and performance psychology at Loughborough University says a 10-hour match will put a lot of demands, stresses and pressures on an athlete, not least of which are the mental pressures of having to come out and do it all over again in order to complete the game.
"This will be outside their comfort zone. It will be a real test of mental resilience.
"A big factor on the outcome of the game will be how well they recovered and prepared this morning and they will need to stay focused on the things they can control."
Dr Fletcher adds that too much thought given to how long today's game may be will cause the players to "take their eye off the ball".
"They'll be taking their time between points, making sure their breathing is right and they need to make sure they stay relaxed so they don't waste any energy."