Car speed test at Edinburgh Airport runway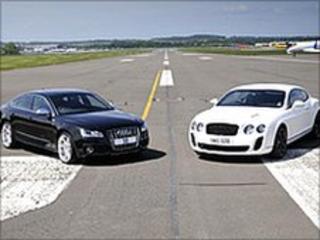 A collection of the world's top sports cars, including Ferraris, Lamborghinis and Aston Martins are to test how fast they can go at Edinburgh Airport.
Race the Runway will see about 50 cars reach speeds of up to 200mph on the hub's secondary runway.
Tickets cost £250-a-head, with the money going to St Columba's Hospice in Edinburgh and the Prince and Princess of Wales Hospice in Glasgow.
The event on 1 July 2010 is the only one of its kind in Scotland.
There will be a series of time trialled heats and finals throughout the day on 1.8km of the runway.
It is hoped the day will raise about £50,000 for the charity.
Gordon Dewar, managing director at Edinburgh Airport, said: "We are absolutely delighted to host the Race the Runway at Edinburgh Airport.
"It should be great fun for everyone taking part and will raise funds for two charities that are very close to my heart."
Other supercars that will be on show throughout the day include top of the range Audis, a Bentley Continental Supersports and a unique 1932 Ford 3-Window.
Morag Cunningham, director of fundraising for The Prince and Princess of Wales Hospice, said: "We are delighted to once again be a beneficiary of this event and our thanks go to Edinburgh Airport for allowing such a fantastic day to take place."
It will be only the second time the event has been held.