Replica of Orpheus pavement mosaic sells for £75,000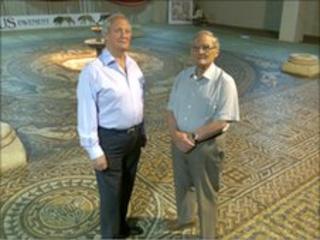 A reconstruction of the largest Roman mosaic to be found in Britain has been sold at auction for £75,000.
The replica of the Orpheus pavement, found in Woodchester, Gloucestershire, is made up of 1.6 million pieces and took its creators 10 years to complete.
Owner Alec Lawless wanted to sell it because the lease to Prinknash Abbey, where it had been on display, ran out.
The pavement was bought by a telephone bidder, acting on behalf of a private client who wants to remain anonymous.
The original mosaic, which dates back to 325 AD, was last uncovered at a churchyard in Woodchester in 1973, attracting thousands of visitors.
Concerns about the disruption to the village and damage to the pavement prompted brothers Bob and John Woodward to make a replica, which measures 2,200 sq ft (205 sq m).
After the sale, Bob Woodward said he expected the replica to fetch much more than £75,000.
"We sadly had to sell it 13 years ago, so we're not benefiting financially, but I would have liked the current owner to have come away with more money than has been settled on today," he said.
"Of course, we'd like to know who bought it and what they intend to do with it, where it's likely to go. We've no idea if it's going to stay in this country, whether it's going abroad or if it's going to be on public view."
Auctioneer Simon Chorley said it was an impossible piece to value.
"A pavement like this has never been sold before. It's a great shame it's got to be sold, but space is at a premium and the monks here say they can't renew the lease," he said.
"We've had interest from private people, from corporate people, the antiques trade and individuals from Woodchester.
Paul Syrett, who was one of a team of residents from Woodchester hoping to buy the replica for the village, said: "It went for quite a lot of money, probably a bit over the funds pledged to us.
"But even if we haven't got it, we've still got the original and maybe we can do something in opening that in the next couple of years."